Waste Minimisation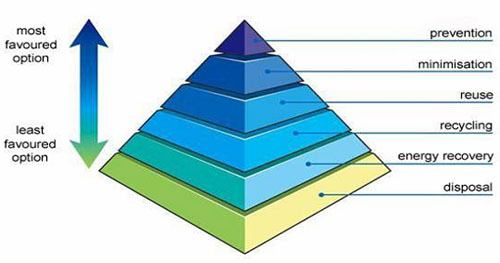 REDUCE
Use e-mail instead of paper
Repair broken items e.g. shoes instead of replacing
Read the newspaper on the web
Try to buy unpackaged goods and avoid over-packaged products, choosing loose fruit and vegetables instead of pre-packed ones.
Buy recycled products
Only buy what you need
Use a lunchbox instead of plastic or foil wrapping
Purchase refillable containers for cleaners, washing solutions and detergents whenever possible.
Buy products in returnable containers whenever possible.
Tick boxes in surveys stating no requirement for further unsolicited mail shot material.
Avoid disposable products, such as disposable nappies, tissues, face wipes, razors, paper and plastic cups, plates and cutlery, kitchen towels, serviettes, computer cartridges and disposable cameras.
Take your own shopping bag every time you go shopping, not just when you are buying groceries
REUSE
Use broken crockery or aeroboard as drainage in plant pots
Re-use wrapping paper
Donate old PC's to schools or charities
Use washable or compostable nappies
Use dishcloths instead of disposable wipes
Buy a battery re-charger and use recyclable batteries.
Re-use envelopes; purchase re-use labels.
Use and refill your own drinks bottle.
RECYCLE
Many charity shops, Boots Pharmacies and recycling centres will accept unwanted glasses.
Use old clothes no longer suitable for wearing as rags.
Sell old books and school books, either to second-hand shops or through the Internet.
Bring old spectacles back to your opticians or recycling centre.
Compost organic kitchen waste.
Pass on unwanted clothes, mobile phones and furniture to friends, charities and second-hand shops.