Litter Challenge 2016 – First Round Results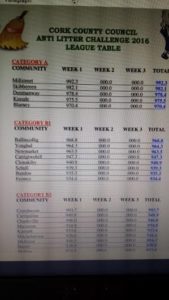 Drum roll please…. First round results are in for the Litter Challenge 2016 are in. I am absolutely delighted and so proud to announce that Millstreet are first with a result of 992.3.
This is  a massive achievement, if this momentum can be kept going there is no reason why Millstreet should not place first place for the entire Litter Challenge.
So keep up the good work everybody, the next judging period began  Monday 23rd May to Wednesday 1st June with particular focus on Murphy's Terrace. Remember just a little makes a huge difference, even something as little as tidying up outside your front garden makes a huge difference.