Millstreet Tidy Town Association are delighted to announce that once again this year there will be an award for Best Frontage Competition 2015. There will be two categories this year. Best Commercial Premises and Best Residential Area. The Best Residential Area, can be an estate, a street or a road. Adjudication will commence in June and run through to the end of August. So why not get together with your neighbours and win it for your residential area. Everybody can do a small part and make a big impact.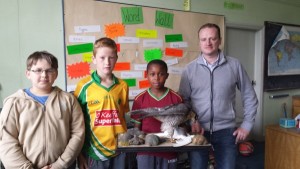 Mr Tony Keneally, Wildlife Biologist, this morning visited the Boys National School in Millstreet. Tony gave talks to all classes in the school today about Millstreet and Ireland and the surrounding wildlife. He even brought some visual aids, as seen in the photograph on the right. I was informed that there were also tadpoles and newts which I am sure the boys enjoyed seeing up close. There are many habitats in our area. The River, Clara Mountain, there are also ponds up at Alps. We would sincerely like to thank Tony Keneally for taking the time to visit the Boys School today.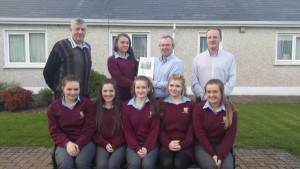 Millstreet Tidy Town Association are very proud to announce that tonight we were presented with the winning Bio Diversity Project from the Transition Year Students of Millstreet Community School. It was a very hard decision to come to as all six projects presented to Tony Keneally were of the highest standard and we would like to thank all the students that took part in this project.  This Bio Diversity study was undertaken by Aisling Dennehy, Ava Barry, Áine McAuliffe, Jennifer Corcoran, Chloé Collins & Megan Ring. The Bio Diversity Project is of the Woodland area next to the Millstreet Community School.  They were mentored by Wildlife Biologist, Tony Keneally and supported by Mr Derry Morley and teachers Ms Fitzgerald and Ms McAuliffe of the Millstreet Community School. This will be a fantastic addition to this years submission to the Tidy Town application, every point that we can gain is an achievement. We hope that with the continued support of the Millstreet Community School and the wider community as a whole that this project will continue in the future. Well done girls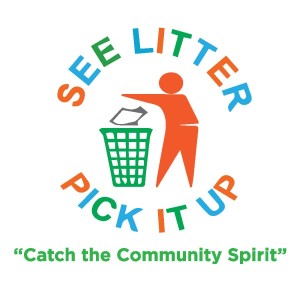 Thursday Night is upon us again. Litter Pick Up @ 7pm. Meeting in The Square. Bags, Pickers and Gloves are all provided. Adjudication for Second round has begun since 11th May. We are currently placed 4th. We have a bit of work to do, but is very achievable that Millstreet could win this competition again this year as we have done in the past. We hope to see as many people as possible out this evening. Again the entire town is being judged with particular focus on Tanyard Wood on this occasion. See you Thursday.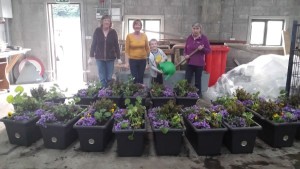 On Tuesday, 12th May, the planting started, in the Millstreet Recycling Centre,  with the flowers sponsored by O'Keeffe's Supervalu Millstreet. The planters that will be placed in various locations throughout the town have been set, thanks to the ladies and their little helper Seán. There is still plenty more flowers and planting to be done. If anyone would like to volunteer and help with the planting of flowers please contact us on this page, Facebook or Twitter. All volunteers are most welcome. Well done ladies the planters are looking beautiful. We look forward to see in which locations they will be placed. Further images can be seen under 2015 Gallery.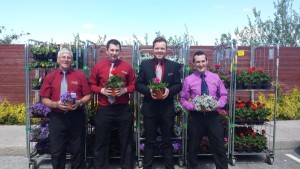 This years flowers for planters and many other areas in the town have been once again kindly sponsored by O'Keeffe's Supervalu Millstreet. There were hundreds of flowers dropped to the shop during the week and almost half of them have since been planted. Planting of these flowers will continue over the coming days. Thanks again to our sponsor. See all pictures in 2015 gallery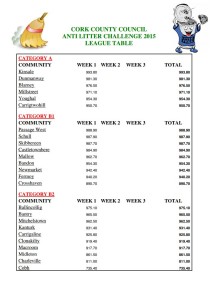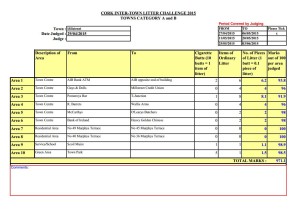 The First Adjudication has taken place for the Anti Litter Competition of 2015. As you can see from the results, Millstreet Town is 4th. Not bad at all, a huge improvement on last years results, but we still do have a lot of ground to make up to get that top slot. The next judging period begins today 11th May and Tanyard Wood is in particular focus for this judging period. All help and volunteers are more than welcome. Litter pick up scheduled as always on Thursday evening @ 7pm in The Square. Hope to see you all there.
Kieran Murphy, our very own wildlife expert has constructed an example of how to make your own Dipper box. For more information on the Dipper please click on the following link http://www.birdwatchireland.ie/IrelandsBirds/Dipper/tabid/1134/Default.aspx. There is a Dipper box located in Clara Road Park.
Millstreet Tidy Town Association are very proud to announce that all 12 nest boxes have been erected. These nest boxes were hand crafted by Millstreet Mens Shed.  There are 12 in total. 1 – behind mens shed, 5 in the Town park, 4 in community school woodland area and 2 in Clara Road Park, also in Clara Road Park is dipper box.
Millstreet Tidy Town Calendar