Millstreet BNS visit from Wildlife Biologist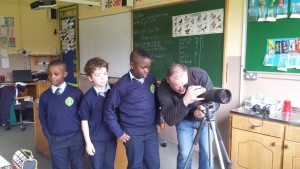 Millstreet Tidy Town Association are delighted to be working with Wildlife Biologist, Tony Keneally this year. Last week he paid a visit to 3rd Class of Millstreet Boys National SChool. Here is how they got on:
"The children were taking part in the Winter Garden Bird Survey run by Birdwatch Ireland. A feeding station with 2 peanut feeders was placed in the lawn outside the window of 3rd class. The kids have to record the different species of birds they see on or around the feeder. At the end of the week they fill in a form recording the highest number of each species seen during the week.
The survey runs from December – February and is a great way of raising awareness of the different species of garden birds, as well as being a valuable source of information for Birdwatch Ireland who can monitor the trends in bird numbers based on results submitted by schools and individuals.
I visited the school twice, once to give them posters and identification tips on the birds they were likely to see. My second visit was to check the progress and see how the kids were getting on.
At the start the kids knew 1 or 2 species whereas on my second visit they can identify at least 6 different species of bird and know about another 8 species. So overall it has suceeded in raising awareness and the kids have learnt to recognise different species.